Phishing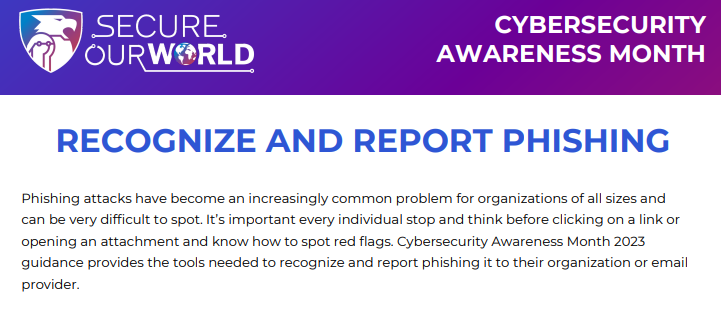 Phishing is when cybercriminals use fake emails, social media posts or direct messages with the goal of luring you to click on a bad link or download a malicious attachment.

If you click on a phishing link or file, you can hand over your personal information to the cybercriminals. A phishing scam can also install malware onto your device. However, it's easy to avoid a scam email once you know what to look for. With the right knowledge, you can outsmart the hackers!
Before clicking any links or downloading attachments, take a few seconds and ensure the email looks legit.

Here are a few quick tips on how to clearly spot a phishing email:
Recognize – Look for these common signs: Requests for personal, financial or organizational information (usernames and passwords), Incorrect domain names, email addresses or web links.
Report – If you suspect phishing, it is best to report or delete the message. Many email providers have easy ways to report messages you suspect of phishing.
Gmail lets you report these messages under the More - then - Report Phishing.
In Yahoo - click Spam on the tool bar then - Report a Phishing Scam on the menu that pops up
In Hotmail or Microsoft email - click Mark as - then Phishing scam